Trunk Or Treak 2016


See more on Facebook

Blessing of the Animals 2018

Catholic Women Today 2016 Luncheon


Ice Cream Social 2016

4th Grade Garden Planting


Click to view all

Men's Group clean up St. Theresa's Chapel and Grounds


Click to view all


Saint Christine's 2016 Seniors and Scholarship Recipients

Marshfield Food Pantry Scavenger Hunt
The 5th grade scavenged their neighborhoods and collected over 70 shopping bags of food for the Marshfield Food Pantry

.
Scout Weekend 2016 (Slideshow - 5 sec per slide)
Advent Christmas Party (Slideshow - 4 sec per slide)
Confirmation Food Collection
Our Confirmation students in grades 9 and 10 collected food donations and $2.00 from each youth to donate to the Marshfield Food Pantry. Fourteen bins of food and $300 were donated and transported to the Food Pantry by Maureen Manns (coordinator), peer Ministers, teachers and Food Pantry personnel.

Also, A 9th grade Confirmation Class discussed the Mass and what is used at Mass. Students took on rolls of Ministers of the Eucharist.
Apple Pie Days
The grand total of 1,566 apple pies were made and $ 8,833 was raised. We extend our sincere and heartfelt thanks to Irene Swan and all who helped to make this endeavor such a huge success. Well done !!!
CCD Opening Mass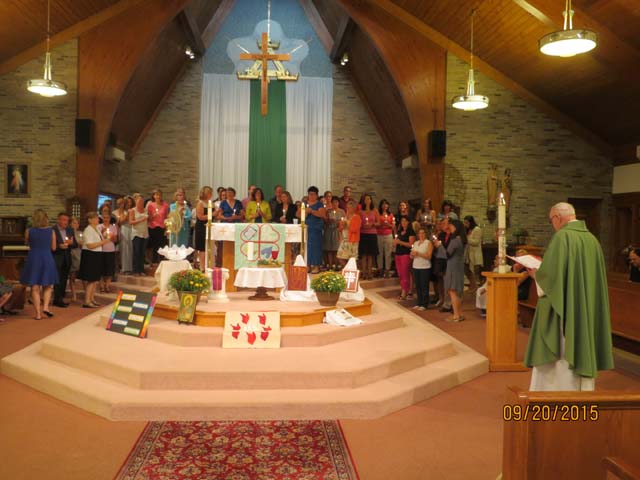 ---