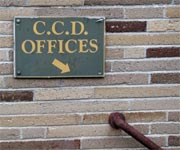 Religious Education Program
St. Christine's parish is committed to the religious education of its children and this is reflected in the generosity of approximately 140 volunteer CCD teachers and grade level coordinators who share their faith with youngsters every year. This collaborative ministry, under the supervision of its Director and Assistant Directors, serve over one thousand students in a hundred or more classes each week.
For more information about the Religious Education Program please call (781) 837-0088 x10
---
CCD ENROLLMENT FORM
Your family must be registered with St. Christine's Parish in order to enroll your children in Religious Education. If you are not yet registered, please contact our office at 837-0088. PLEASE FILL OUT AND RETURN THE ENTIRE CCD Enrollment Form (Please Print) to:
St. Christine's Religious Education
CCD Office
1295 Main St.
Marshfield, MA. 02050
CCD 2019 / 2020 Schedules (Being Updated)
Pre-School | Grade1 | Grade 2 | Grade 3 | Grade 4 | Grade 5
Grade 6 | Grade 7 | Grade 8 | Grade 9 | Grade 10
Confirmation Program Schedules for 2019/2020
Grade 9 | Grade 10
Other Schedules
None at this time.

Youth Ministry Program
The Youth Ministry Program is a three-tier program:
Social: for students grades 9-12. This program consists of ski trips, dances and cookouts. Also, the Youth Group has presented musicals and plays like "Gospel" and "Arsenic and Old Lace."
Educational: for grades 11 and 12. This group meets monthly with guest speakers who address topics relevant to teen-agers.
Spiritual: for students grades 11 and 12. To qualify for participation in this component, a student must have taken part in an intensive four-day Senior Leadership Retreat which is held in August at the Christian Conference Center in Craigville. The primary task of these trained leaders is to conduct Retreats for students in grades 9 and 10. In addition, students are chosen from this group to serve as Eucharistic Ministers, Lectors and CCD Teachers.
For more information about the Youth Ministry Program call (781) 834-6003 x25