Saint Theresa's Chapel
Before the construction of St. Theresa's Chapel about 35 Catholic families lived in the Humarock area, these people attended Mass at the home of Katherine Donovan. Sometimes Mass was even held in the garage next door so that more people could partake in the Eucharist.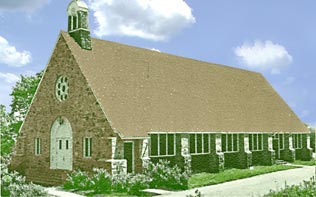 When "The Little Flower of Jesus" - Saint Theresa - was canonized on May 17, 1925 a group of men from Humarock wanted to build a church. Among them was the late Henry Hanley, Thomas Donavan, Louis Vachon, Thomas Dolan and William P. Brennan. Pooling donations of $100 each, they set to work with the blessing of Fr. Patrick Buckely, pastor at old St. Mary's Church in Scituate.
Their zeal was not to be denied. Dr. Edmin Dwight, who was not a Catholic himself and at the time was the only householder on Holly Hill, dontated the land on which St. Theresa's now stands. His only condition was that the new structure keep with the surroundings of Holly Hill.
By 1927, their dream had flowered. Appropriately, since their church embodied the budding Faith of the founders, Fr. Buckley chose saint Theresa as patroness. But the lovely hillside stone and wood structure had not been built without much "joyful effort" as one witness puts it. There had been continuous bridge parties, endless sales and auctions, a gala dance every year, and the great generosity of St. Mary's parishioners. When Fr. Richard James Cushing blessed the church in August, 1927, after preaching on St. Theresa's beautiful life, Father Buckely was able to boast: "It's paid for."
As St. Theresa's had answered the needs of an original handful, there was in the 1940's even more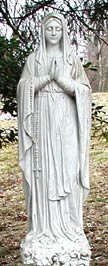 demands of a growing flock, now nearly 300. When Msgr. Edmund Moran was appointed first pastor in Marshfield, daily and Sunday Masses, devotions and novenas were expanded at St. Theresa's
Except for 1955 when the church was used year round, St. Theresa's has remained a sort of summertime "sub parish" of St Christine's. One need only attend to find the same spiritual bond of founders in the Faithful of today. Especially is this so in men like Thomas Dolan of Roslindale whose years of willing work have not gone unappreciated. Many recall the penny and cake sales he helped run with Father Flynn from the porch of old St. Christine's rectory. And there are others... the scores of Jesuits, particularly Rev. Edward J. Welsh, S.J. of Farifield Prep. Conn., who with others of his Order have helped for most of the 23 year tenure of Fr. Flynn.
These indeed are the blossoms of the "Little Flower".