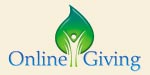 Saint Christine's now has an Online Giving Program!

Before you proceed please print this page.

The St. Christine's On-line Giving system will give you the ability to manage your own account. Some of the new features are the ability to start payments and stop payments, select what second collection to give to and the ability to give over a period of time for the Grand Annual. Also, you will be able to give weekly, bi-weekly, monthly and set the date to give. If you choose to set up your second collection giving, make sure you select Gift Type as One Time and the payment date to that weekend date of the second collection. Then the amount will be taken out on that date.
If you would like to use Online Giving but are not ready to set up an account just yet. Try using the Online Giving "Quick Give" option which will allow you to make a one time donation using your credit card. Once you find out how easy and safe it is, you will feel more comfortable creating an account. Click here to find out more about Quick Give.
The new system also, has video help and a user guide to help you through the process.

First Time Users
Start Up Help
Before you get started please read these Frequently Asked Questions about the Online Giving System
Now, please watch each of the following videos before you continue. They will help make the whole process a lot more familiar and only take a few minutes each.
When you are ready to create a new account follow these steps:
Visit the St. Christine's Online Giving Welcome Page.
Click on Create New Account.
Complete all the required fields (denoted by a red asterisk *) then click Submit.
After you click the Submit button, you should receive an email confirming your new account creation. (This could take up to 24hrs to receive but usually comes within a few minutes)
Open up your email program (Outlook, AOL, Yahoo, Gmail, Etc.) and look for that email. The Subject line of the email will say Welcome to Online Giving.

IMPORTANT NOTE: If you don't receive an account confirmation email, please be sure to check your email spam folder. If it did go to your spam folder there should be a way to tell your mail program that it is not spam and prevent any future emails from Online Giving from going to spam.

The email will confirm your username and password and will provide you with a link to log in where you can start setting up your gift giving options.
Click on the link in your email or you can Click here to Log in. Enter the user name and password that you selected.
Once logged in you should set up your method of payment. Click on the My Payment Methods option and add your payment option. (see video above).
After you have set up your payment method you can select which St. Christine's gifts you want to give to. Click on the Give a New Gift option from the main menu.
On the Give a New Gift page you will see all of the gifts available for this year including the weekly offertory, second weekly collections and the Grand Annual collection). You can give to one or all of these and on the dates you select. It's completely up to you. (see video above)

Important Notes:

Weekly Offertory Gift: If you want your offertory gift to be deducted automatically each week, select the recurring option and the date you want to start. Otherwise you will need to go into the system each week to give a weekly one time offertory gift. Give using Quick Give

Second Collections: If you choose to set up your second collection giving, make sure you select Gift Type as One Time and the payment date for the date the actual second collection will take place (the actual date of the collection is shown on the Online Gift page). If you do not put the correct date for each second collection, all of your gifts will be deducted from your account at one time.

Grand Annual Collection: For the Grand Annual collection you can make a continual recurring payment to be deducted weekly, monthly, etc. or you can also Pledge an amount that will allow you to determine the entire amount you want to pay and to assign a specific amount deducted from your account periodically until the pledge amount has been fulfilled.

Religious Education Payment: For the Religious Education Payment you want to pick Pledge or One Time in the select the gift type box. If you chose Pledge, you would put in the bill amount and the start date you want to start the payments. Next select your payment method and the amount you want to pay and the frequency would be monthly. Also, if you want to make a down payment , specify the amount of the payment and the account to charge. Your down payment is a one time payment that is process on the current day. If you chose One Time, you would specify the payment amount which would be the total bill and the payment date. Next select the account to charge.


When you have finished giving your gifts click Next at the bottom of the screen. Here you will have a chance to review what you have selected. If anything is incorrect, click the Back button and make your corrections. If everything is correct, click Submit.
After submitting your gifts you will be shown a confirmation of your gifts and a copy of your transaction will be sent to your email account.
You can now click Finish and the process is complete.
You can now Sign out of the Online Giving website.
Editing your Gift Amounts, Personal Information or View your Giving History
If you ever need to edit or delete your giving amounts, update your personal information or view/print your the gifts you have already given, the following videos will help you do that.
Editing your Giving Amounts (My Active Online Giving)
Updating your personal information (My Personal Information)
View/print your giving History (My Online Giving History)
If you have questions or problems after you get to the site you can click on the Contact Us link. Or if you still feel you need assistance setting up your account please call the rectory to set up some time and someone can assist you.
Click the link or image below to access the Online Giving site, where you will need to either create a sign-in ID or log in with an existing one. Thank you.